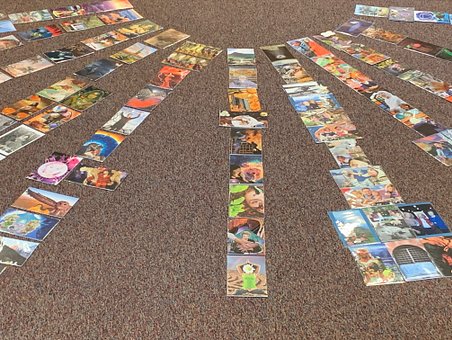 Beth Leydon, MS
Personal Development Coach
SoulCollage® Workshops
Come home to yourself!
SoulCollage® is an intuitive and creative exploration of your inner and outer worlds, leading to enhanced awareness and self discovery. It's as if psychology, spirituality and creativity had a party, and you are the guest of honor!
Within the safe container of a supportive group, you will browse images from magazines, books or photos and create a personal deck of collaged cards with which to consult and dialogue. The process is fun, surprising and enlightening. No artistic ability is necessary!
Next SoulCollage® Workshop
100 minutes via Zoom!
TBA contact me if you are interested
Check out our private Facebook group;
SoulCollage® Explorers www.facebook.com/groups/211564189957397/
Have some fun exploring the "Companion Suit" of SoulCollage by listening to this meditation. Relax and see what creatures come to you and discover where they are located.
A special 2 month program! Through weekly sessions you will create a personal deck of cards that represent all aspects of your life. You will learn to use these images to better understand your unique system, to re-balance extreme parts and heal old wounds. You will be coached in many exercises, styles of readings and somatic discoveries that are designed to help you access your inner wisdom. This is the start of a satisfying, life-long practice of self discovery!
A Guide to Your Soular System: a special blend of SoulCollage® and Internal Family Systems